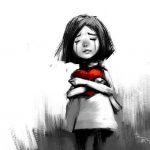 Gods help in times of need
A psalm of David. A song for committing the completed temple to God.
Lord, I will give you honour.
You brought me out of deep trouble.
You didn't give my enemies the joy of seeing me die.

2 Lord my God, I called out to you for help.
And you healed me.

3 Lord, you brought me up from the edge of the grave.
You kept me from going down into the pit.

4 Sing to the Lord, you who are faithful to him.
Praise him, because his name is holy.

5 His anger lasts for only a moment.
But his favor lasts for a person's whole life.
Sobbing can remain through the night.
But joy comes in the morning.

6 When I felt safe, I said,
"I will always be secure."

7 Lord, when you showed me your favor,
you made my mountain stand firm.
But when you turned your face away from me,
I was terrified.

8 Lord, I called out to you.
I cried to you for your favor.

9 I said, "What good will come if I die?
What good will come if I go down into the grave?
Can the dust of my dead body praise you?
Can it tell how faithful you are?

10 Lord, hear me. Show me your favor.
Lord, help me."

11 You turned my loud crying into dancing.
You removed my black clothes and dressed me with joy.

12 So my heart will sing to you. I can't keep silent.
Lord, my God, I will give you thanks forever.